Pier 55 Red Wing Area Seniors
240 Harrison St, Ste 2 | Red Wing, MN 55066 | 651.327.2255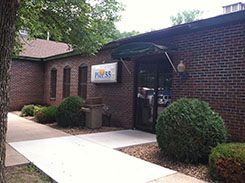 ---
About Us
---
Pier 55 is open to all, and you do not need to be a member to participate. The Center is handicapped accessible and no one shall be refused access to programs because of race, religion, sex, color, economic status, or disability. Our mission as Red Wing Area Seniors, Inc. is to enhance, stimulate, accommodate and support ever-changing and active lives.
---
ANNUAL MEETING Of
Red Wing Area Seniors
Mark your calendar for our annual meeting
Tuesday, Nov. 18 - 3 p.m.
All members are welcome and encouraged to attend.
---
---
Politics
---

Barb Haley is running for the House of Representatives. She will be with us for a Q&A session Thursday, Oct. 6, at 11 a.m. Coffee will be provided.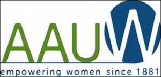 AAUW will host a Meet-and-Greet for local political candidates in the Community Room on Tuesday, Oct. 18 from 6:15 to 7:30 p.m.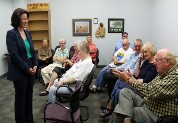 Thank you to everyone who attended the Meet-and-Greet we had last month with Angie Craig who is running for U.S. Congress.


---
Meet Stef, Our Program Coordinator
---
Greetings! I'm Stef Braun, new Program Coordinator. In the week since I started Sept. 8, I've already met so many great people -- and hope to meet many more! I've been a certified personal fitness trainer for 10 years, working at Snap Fitness and other fitness busi-nesses. When I lived in Rochester, I was employed in human resources and office management positions. Growing up in Rochester, I met and married my hus-band, Joe; we lived there until 1998 when we moved to Lake City where Joe established Braun Plumbing. We have two daughters: Carlee is in 10th grade and just got her driving permit in July. She has been doing well, but as a parent I find it terrifying! CeCelia is in 8th grade; the highlight of her summer was getting her braces off and a fishing trip to Canada. As with most parents, I stay extremely busy running our girls to various activities, sports and functions. In our spare time, the family spends as much of the summer as possible on or by the water. In fall and winter, we tend to be home more -- or rather I'm at home more and enjoy some alone time -- as Joe and the girls enjoy the outdoors and hunting. I'm thrilled to be here and am getting acclimated to my new surroundings. This is an amazing facility.
---
Circle of Friends
---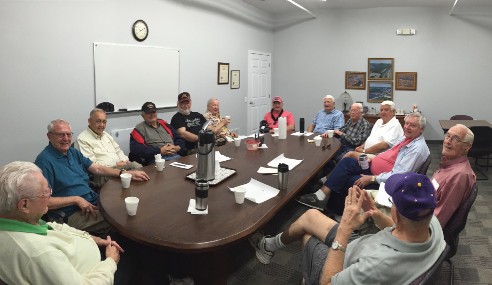 Carl celebrates his 80th birthday in September with the Red Wing Pottery Coffee Group. It meets at 9:30 a.m. M-W-F in the board room. Happy Birthday Carl!
---
Anderson Center Musicians
Share Talents With Us
---
Like the sweet music heard in Carnegie Hall, the enchanting music filled Pier 55's community room as RWAS members and guests enjoyed the international offerings of Angelica Minero Escobar and Michael Tsalka from Spain.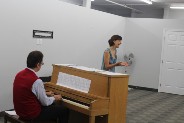 Angelica and Michael participated in an intimate question and answer session which was followed by a tasty snacks, dark chocolate and beverages prepared in our new kitchen.
RWAS member Mary observed the Anderson Center's program "was a wonderful experience."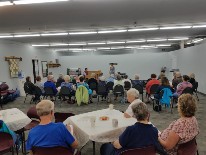 Program Coordinator Stef Braun thanked those attending and the Andersen Center for sharing its talented musicians.
We will offer more concerts and events in the future.
---
Care Call In
---
If you have concerns about living alone. You may want to be part of our "Care Call In" program. Each day we are open you call to let us know you are "OK." If we don't hear from you by 9 a.m. we call your emergency contact. Stop in or call to sign up.
---
Contact Us
---
Phone: 651.327.2255
Hours: Monday-Friday 9:00am to 4:00pm
Program Coordinator: rwasprogram@gmail.com
Executive Director: rwasdirector@gmail.com
Stop in or visit us on Facebook.
---
Our Staff
---
Officers:
Tom Walsh
President
Ralph Ryan
Vice-president
Jan Wall
Secretary
Gary Johnson
Treasurer
Marcy Underwood
Past President
Directors:
Douglass Blakesley
Sandy Giles
Ben Stephani
Dan Mjolsness
Marlene Nihart
Jessica Wheeler
Staff:
Kim Wojcik
Executive Director
Shirley Perkins
Administrative Assistant
Stef Braun
Program Coordinator
Sheryle Boldt
Annadee's Manager
John Simanski
Annadee's Janitor